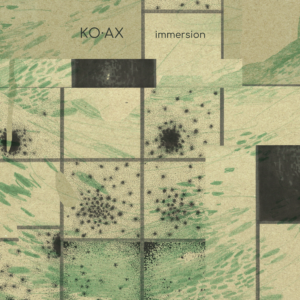 We are happy to present the second album of KO-AX and welcome the band as a label newcomer at Listen Closely!
KO-AX goes back to a term originating from geometry and describes a three-dimensional element that has a common axis of reference. This metaphor becomes the premise in the music of Lukas Leitner (piano, synthesizer), Walter Singer (double bass) and Lukas Laimer (drums): Interaction comes to the fore, individual insertions are coaxially united.
With their new program immersion, the piano trio KO-AX now delves further into their very own musical cosmos. Even more determined than in their debut album Loose Frames, the band dedicates itself to a concept of music beyond genre pigeonholes: Starting with reduced compositions, the three musicians fuse jazz and improvisation with borrowings from rock, electronic music, new music, etc. to create an intoxicating mixture that knows how to unfold its effect especially live. Minimal music elements meet synthesizer pads, twelve-tone rows meet energetic grooves and catchy melodies meet fragile harmonies.
The new CD will be available soon in our store, until then at KO-AX concerts. Digitally, the album is accessible here.